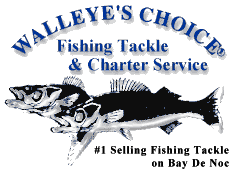 Charter Info
Book A Trip
Contact Us
Walleye's Choice Online
Fishing Tackle Catalog
Photo Album
Location
Links

Home Page
Fishing Michigan Big and Little Bay De Noc near Gladstone,
Escanaba and Rapid River Areas of Michigan
with Captain Keith Wils - Walleye's Choice Charter Service
Links To Other Great Fishing Resources
Fishing Information Network
Fishing reports, articles, tackle & equipment manufacturers, and lodging information for the United States and Canada.

Walleye Central
Walleye fishing news, tips and related information, features bulletin boards, and chatrooms.
Walleye Hunter
Articles, classified ads, fishing reports, information, and resources for the avid walleye fisherman, also offers a comprehensive list of DNR information
for all 50 states.

Nirvana Resort
Nirvana Resort offers ease of access to some of the best fishing in the Midwest! Walleye, Smallmouth, and Northern Pike are plentiful in these waters.

---
For reservations or more info contact:



Captain Keith Wils
10132 M-35
Gladstone, MI 49837
Home Number: 906-428-1488
Cell Number: 906-420-6454
Fax Number: 906-428-1786

E-mail: keith@walleyeschoice.com

Fishing Michigan Big and Little Bay De Noc near
Gladstone, Escanaba and Rapid River Areas of Michigan
with Captain Keith Wils - Walleye's Choice Charter Service