Location
Where is Bay De Noc Michigan?
We are located in the northern most part of Lake Michigan - the northern tip of Green Bay. Little Bay de Noc is located near the following cities of Escanba, Gladstone and Rapid River.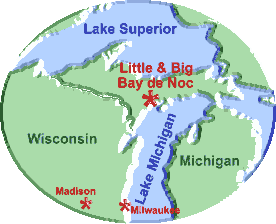 CLICK HERE to view area map.
Below is an approximate mileage chart from major cities in the midwest. For more information on how to find us feel free to email us at keith@walleyeschoice.com.
Distance in Miles:
Detroit...............430
Milwaukee.........225
Chicago.............360
Minneapolis.......390
Toronto..............665
Duluth................300
Green Bay.........110
---
For reservations or more info contact:



Captain Keith Wils
10132 M-35
Gladstone, MI 49837
Home Number: 906-428-1488
Cell Number: 906-420-6454
Fax Number: 906-428-1786

E-mail: keith@walleyeschoice.com

Fishing Michigan Big and Little Bay De Noc near
Gladstone, Escanaba and Rapid River Areas of Michigan
with Captain Keith Wils - Walleye's Choice Charter Service